As stated in my introduction to Mark It 8, Dude, I will not provide full reviews of every film I watch. To fill those gaps, I will periodically include a rundown of the things I watch without reviewing them in depth, including each film's "mark" and a quick paragraph to express my reaction. Here's my first of those posts.
Another Earth (2011) – Mark it 4.
Underneath its interplanetary and metaphysical facade, Mike Cahill's Another Earth is merely your everyday indie melodrama about two people connecting over a tragedy, and a somewhat dull one at that. The many scenes of the grieving man and guilt stricken woman slowly connecting, despite their shared tragic past, never worked for me. Throwing in an identical Planet Earth that is home to every human's exact double, where the accident may or may not have ensued similarly, is not enough of a twist to make it memorable. However, I did enjoy its star and co-writer, Brit Marling, and would enjoy seeing what she can do in something better.
Michael Jackson's This Is It (2009) – Mark it 6.
This is not just a pure money grab exploiting Michael Jackson's tragic death like I initially suspected. Kenny Ortega manages to string together behind the scenes rehearsal footage from what would've been MJ's comeback tour into a full-length feature celebrating his musical genius. It was a pleasure watching Michael take control of his musical spectacle, inspire his collaborators, sing those fantastic hits, and move as smoothly as ever on the dance floor. This tour would have been an impressive return to greatness. Rather than exploiting death, This Is It acts as one last chance for Michael to show the world that he truly is the King of Pop, even if it's posthumously.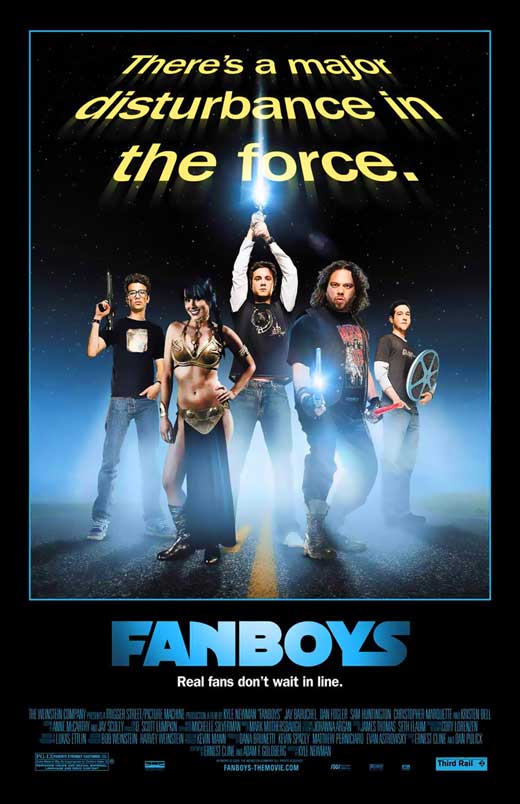 Fanboys (2008) – Mark it 2.
I love Star Wars and the idea of a group of Star Wars superfans on a quest to steal a print of The Phantom Menace before its release had potential for good comedy, but that promise is wasted. The characters are just sci-fi nerd clichés, the script is slapped together into a typical road movie, and the jokes are a healthy mix of stupid, juvenile, and unfunny. Star Wars references galore, Seth Rogan's three separate cameos, and many familiar faces from the comedy and sci-fi world aren't enough to save this terrible film. If I were to think of one positive, it would be that I am beginning to understand why Kristen Bell is something of a sci-fi world dream girl (she does rock the Princess Leia slave girl costume after all).
Kristen Wiig helps lead a very funny female ensemble that puts her male Hangover counterparts to shame. It was refreshing to hear women speak dirty dialogue and do the gross out humor that we are accustomed to see from men. But Bridesmaids has more to it than the novelty of raunchy female humor. It is easy to care for Wiig's character and like each member of the bridal party. The film's main ingredient, the maid of honor clash between Wiig, the longtime but down on her luck best friend, and Rose Byrne, the disturbingly perfect newcomer, works very well. As Wiig's two beaus, the amazing John Hamm's hilarious turn as the ultimate womanizing jerkoff and Chris O'Dowd's lovable cop are both good as well. Lastly, what a wonderful surprise to see those beautiful establishing shots of my hometown, Milwaukee, early on – Bridesmaids sold me from the start.
Gandhi (1982) – Mark it 8.
Richard Attenborough's Gandhi is an epic biopic on the grandest scale, worthy of its eight Academy Awards (including Best Picture, Director, Actor, and Screenplay). Ben Kingsley gives a powerful but quiet performance as the world's most famous non-violent revolutionary. Its three-hours fly by as the film follows the threads of Gandhi's life. Gandhi provides an important history lesson, instilled with great entertainment value, as a young Gandhi leads the Indians in South Africa above their second-class status, and returns home to spend the rest of his life attempting defeat the British Empire and establish an independent India, through non-violent civil disobedience. What separates Gandhi is Kingsley's ability to portray the human side of this historical icon. I was filled with pride as India won its independence, only to have my heart broken watching India's internal divisions violently undermine Gandhi's dream.