In most movie websites, the annual top ten lists are rolled out in January or February (in preparation for the Academy Award debates that often coincide). However, the people making these lists and having these debates do such things for a living; or at least have the means and time to see many films near their release date. Not being one of those people, it has obviously taken me some time to see enough films from last year to feel comfortable making my definitive "best of 2011" list (as of July 2012). Having had many of the prestige movies in critic circles and major commercial successes work their way up my Netflix queue, I am ready to unveil my favorites. It was difficult to sift through all the great films I saw and limit it to the top ten – let alone rank those pictures after I made my decision. There were many worthy of consideration, but I am quite pleased by how things have turned out with my favorites representing a variety of genres and mixing well-established filmmakers with exciting up-and-comers.
With this post, I would like to begin a new feature on Mark It 8, Dude. Every few months, I plan to begin counting down the years, toward the beginning of time, and sharing my top ten lists for each year (obviously, another idea I have lifted from the Filmspotting podcast). "Mark it 2010" may appear come autumn with "Mark it 2009" following in winter, and so on. I assume that it will take a similar time period to catch up with 2012's year in film, so "Mark it 2012" will most likely be dropped in somewhere in the middle of the countdown next summer.
This will be the beginning of a fun project on Mark It 8, Dude that I hope my readers will enjoy. I look forward to hearing your responses to my favorites of 2011 and perhaps even reading some of your own top ten lists – please share.
Honorable Mentions
:
50/50
,
Attack the Block
,
The Girl With the Dragon Tattoo
,
Harry Potter and the Deathly Hallows: Part Two
,
Rango
,
Take Shelter
,
The Tree of Life
#10) Rise of the Planet of the Apes – Mark it 7.
Rarely are summer blockbusters better made than Rise of the Planet of the Apes. Taking on the origin story of the Planet of the Apes saga in a realistic way (by movie standards), the trip from testing chimpanzees to find the cure for Alzheimer's to an army of super-intelligent apes taking over San Francisco is a wild 90-minute ride. So much is crammed into its running time, but every major character feels well developed and none of the major plot points feel rushed. In a fast-paced action film, that is quite the achievement. However, there is more to Rise of the Planet of the Apes that its exciting story and amazing action sequences (though the battle on the Golden Gate Bridge is about as cool as battles can get). Andy Serkis (of Lord of the Rings' Gollum fame) is back in a CGI-rendered role, as Caesar, the smartest of the apes that leads the rebellion. The work Serkis does, and the animators who interpret his performance, is fantastic. He perfectly matches the mannerisms of a chimpanzee but also allows for the subtlest of human emotions to break through. Serkis' Caesar gives the film its heart, helping lift it above most stereotypical blockbuster fare.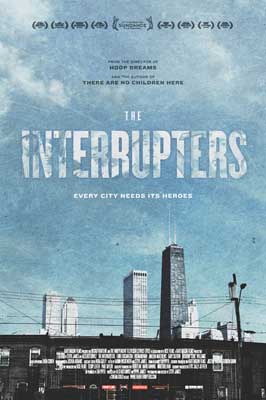 #9) The Interrupters – Mark it 8.
Living in any major American city, one becomes all too familiar with the tragic stories of violence and murder that arise everyday. It is easy to become numb to such horrors, but that reaction is dangerous for a society; we should never be numbed to violence and murder. In Steve James' powerful documentary, The Interrupters, we get to witness how one group in Chicago rejects acceptance of this violence. Following a group of heroic individuals, CeaseFire's "Violence Interrupters," we get to meet many charismatic and passionate people, often with dark histories of their own, who have put violence behind them and now help others find solutions to their problems that don't involve bloodshed. It takes a courageous group of special individuals to do this work as they enter numerous hostile situations throughout the city. Once the "Interrupters" can gain someone's respect, it is amazing to watch them work. They show love and respect to people who rarely receive enough of it rather than lecture from a soapbox. If their message gets through and one murder is prevented, the work is worthwhile. There is so much potential in every person that is continually wasted via the needless homicides in our cities.
Sean Durkin's debut, Martha Marcy May Marlene, is probably the creepiest film I saw all year. Through Durkin's masterful editing, the audience is bounced back an forth between the days that Martha (Elizabeth Olsen) becomes indoctrinated by a rural cult in upstate New York and the days after her escape to her sister's lake house in Connecticut. As she is brainwashed by the charming, but evil, cult leader Patrick (John Hawkes), the lasting effects that this experience had becomes more apparent at her sister's house. This idyllic rural lifestyle has horrifying secrets slowly revealed throughout the film. Through these secrets, we sense how real and intense that the paranoia felt by Martha after she leaves is. Our own grasp on the reality in the picture also begins to disintegrate by the end of the film, and its brilliantly ambiguous ending will leave you shaking. However, Martha Marcy May Marlene can only be as good as Olsen's performance and she delivers on every level. She powerfully portrays the rebellious but naive young girl who makes easy prey for the cult leader, the devout follower who helps indoctrinate others, and the tortured soul who realizes the dark path her life is taken.
Far more than a novelty act, Michel Hazanavicious' ode to the silent era is a great film worthy of the many accolades it received during Hollywood's awards season. The Artist captures, to a "T," the look and feel of the silent films that dominated the screen until 1930s. And the simple story it tells is both touching and exhilarating. You feel simultaneously sad and happy to see the fall of an aging star of silent movies, George Valentin (Jean Dujardin) alongside the rise of his protégé and love interest, Peppy Miller (Bérénice Bejo). These two French actors sparkle on screen with big gestures, bigger smiles, loads of energy, and great onscreen chemistry. Watching them take on the unique personas that silent stars had to have is a joy to watch. Any audience, from the most learned film historians to Joe Popcorn at the multiplex, will be won over by The Artist. Whether you see it as a loving tribute to a bygone era or something weird and new, it is worthy of a viewing. Not liking The Artist is something I cannot understand (the debate arises over the degree in which one likes it).
#6) Hanna – Mark it 8.
There are many great films in the "girls kicking ass" genre, and when I watched Hanna, it quickly emerged as one of the best (though Kill Bill still reigns supremely). With its pulsating Chemical Brothers score, excellent direction from Joe Wright (stepping outside his Pride and Prejudice and Atonement comfort zone), and standout performance by Saoirse Ronan, Hanna is such a fun cinema experience. In the early scenes in the Scandinavian wilderness where we see Hanna trained to be a killer super-spy by her father (Eric Bana) it became clear that this would feature a unique heroine. Once her quest to kill the evil CIA agent, Marissa Weigler (Cate Blanchett) begins, Hanna turns into a wild ride across a continent. Hanna must navigate an outside world she's never seen before (hearing her first piece of music and making her first friends) while facing countless dangers. It is a joy to watch her rigorous training put to use against these dangers and see the interesting mystery behind her life unfold. This film is action done right, with a touch of artfulness that sets it apart from its contemporaries in the genre.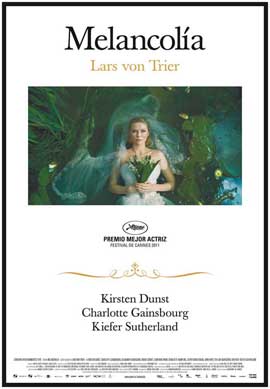 #5) Melancholia – Mark it 8.
Melancholia is a film about depression and the end of the world by a controversial filmmaker, Lars von Trier, known for challenging his artists. But it is nowhere near as dire as it sounds. From the 8-minute opening sequence of slow motion shots set to an epic Wagner soundtrack on, this film had me hooked. In the beginning we know Earth's tragic fate (being engulfed by the titular giant gaseous planet), but through getting to know a pair of sisters (Kirsten Dunst and Charlotte Gainsbourg), the emotions felt at the end of the world are intense. One sister, Justine (Dunst) is severely depressed, as shown in the most uncomfortable wedding reception ever, which enables her to cope with the doom on its way. The other sister, Claire (Gainsbourg), has a happy life to lose so the world's end brings about painful panic. This is a sincere portrait of depression and anxiety through the lens of a catastrophe. Melancholia's two great lead performances had me deeply invested in these sisters' relationship and their fate. Von Trier has made a beautiful and accessible film (by his standards), with a climactic ending that is amazing to behold (and listen to, loudly).
#4) Midnight in Paris – Mark it 8.
One of the world's greatest filmmakers, Woody Allen, made his best piece of work in years with Midnight in Paris. Taking on the classic "Woody" role is Owen Wilson as Gil, a semi-successful writer who dreams of producing more profound work. Poor Gil is stuck on a vacation in a beautifully shot Paris with his superficial fiancé (Rachel McAdams), future in-laws, and her painfully pretentious – and hilarious – professor friend (Michael Sheen). All he wants is to be inspired by the sights and sounds that literature's greats were influenced by generations before. This is an amusing little comedy as is, but Allen adds a bit of magic that takes Midnight in Paris to another level. A mysterious cab ride at midnight takes Gil to another era completely. Mingling with his heroes, such as Ernest Hemingway, F. Scott Fitzgerald and Gertrude Stein, and finding his muse (the gorgeous Marion Cotillard) allows him to follow his passion and transform his perspective on his present situation. Yet Woody Allen does not allow one to just bask in the memories of long ago. While celebrating the great art of our past, Midnight in Paris teaches us to also appreciate life that's occurring before our eyes instead of always waxing nostalgic.
#3) Drive – Mark it 8.
Nicolas Winding Refn's Drive is perfectly summed up in one word, "cool." From the moment its '80s-sounding electronic music plays and the hot pink font appears over downtown Los Angeles, there is no doubt that you are immersed in a unique film. In the first 10 minutes (worthy of top ten consideration on its own), Ryan Gosling's Driver is in complete control behind the wheel as he leads the getaway in a heist, but the mystery behind his character is overpowering. That mystery will play a huge role throughout the film as he falls in love with a neighbor down the hall (my girl, Carey Mulligan), and gets swept up in the dirtiest side of the crime world. Drive absolutely drips with style, but style is not all it has going for it. Despite its simplicity, you are fascinated by the Driver's ability to surprise us all by meeting his adversaries head on, with shocking instances of ultra-violence. With a great supporting cast (Bryan Cranston, Oscar Isaac, Ron Pearlman, and Albert Brooks), unique style, exciting music, and fantastic direction, Drive put Refn on my map of directors to be excited about in the future.
#2) The Descendants – Mark it 9.
Few films of 2011 affected more than Alexander Payne's The Descendants. The sentimentality of a father connecting with his two troubled daughters over a tragic event that turns their world upside down worked me over wonderfully. George Clooney, one of my favorite actors, gives what I think is his best performance to date. He is able to keep his incredible coolness (relatively) in check as an average dad who is juggling so many huge pressures such as the impending death of his wife, the reveal of his wife's infidelity, getting to really know his daughters for the first time, and making a decision on his extended family's multi-million dollar real estate deal. The performances make this movie with Clooney and his two daughters (Shailene Woodley and Amara Miller) taking the lead, with a great supporting performance from Robert Forester right behind. After a string of great films (Election, About Schmidt, Sideways), Payne's emotionally touching and darkly funny style has never been better. Pardon the cliché, but I laughed and I cried during The Descendants. And when I rewatched it, the film only got better, which is always a good sign.