Directed by Mark Romanek
Starring Carey Mulligan, Andrew Garfield, Keira Knightley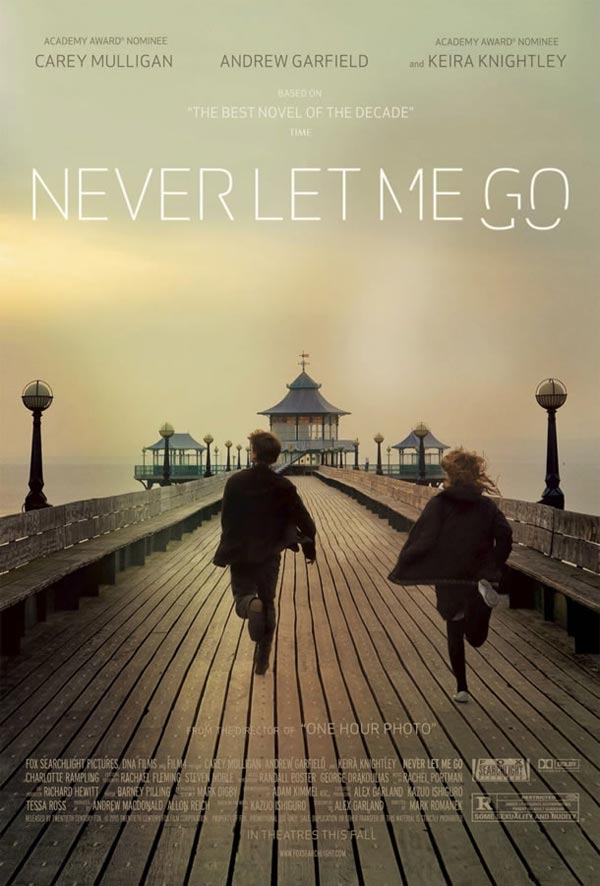 The podcast that inspired me to start this blog back in February, Filmspotting, is such a favorite of mine because it brings so many lesser known films to my attention. I hear them mentioned, stick them in my Netflix queue, and get pleasantly surprised when they pop up in my mailbox. Never Let Me Go is one of those films. I had never heard of it, despite its star-studded cast with Keira Knightley (Pirates of the Caribbean and tons of stuff), Andrew Garfield (The Social Network and the upcoming Spider-Man reboot), and the always amazing Carey Mulligan (An Education and Drive). However, I quickly became quite interested in this (technically) sci-fi romantic drama that was championed hard by Filmspotting host, Adam Kempanaar, in multiple episodes. It was even his favorite film of 2010. Needless to say, I had to check it out.
With
Never Let Me Go
,
Mark Romanek (best known for 2002's
One Hour Photo
and music videos for Nine Inch Nails, Fiona Apple, and Jay-Z) has adapted a highly regarded novel by Kazuo Ishiguro. The film spans from the 1970s through the 1990s in an alternate reality where medical science has advanced so far that by the mid-twentieth century, the average human lifespan exceeds 100 years. However, life without terminal illness is not free of sacrifice. This setup gives
Never Let Me Go
its science-fiction tag, but the real meat of the story focuses on the relationships of three individuals as they cope with their feelings of love in a world where they are disposable.
We come to understand their place in this world throughout the film's three acts, and this understanding can be quite moving.
Never Let Me Go begins innocently enough at a British boarding school in the 1970s where we meet three pre-teens, Kathy (Isobel Meikle-Small as a child; Carey Mulligan as a teenager and adult), Tommy (Charlie Rowe, child; Andrew Garfield, teen and adult), and Ruth (Ella Purnell, child; Keira Knightley, teen and adult). They play sports, attend class, gossip, and start to fall in love, as kids their age tend to do. However, they soon learn that their school is not normal but rather a place where people are bred to eventually donate their vital organs, ensuring that the society's new standard of living can be sustained. Living under these circumstances would put a strain on any relationship, but when two friends with seemingly little to live for are in love with the same boy, these complications increase tenfold. On a side note, the actress who plays the young Kathy strikes an amazing resemblance to Carey Mulligan (kudos to the casting); while the young Tommy and young Ruth are less uncanny, both child actors are also really good.
Structured around three clearly defined acts, the film then ventures on into the next stages of Kathy, Tommy, and Ruth's lives where they finish donor training, awkwardly assimilate into regular life, and learn of rumors about ways out of their situation. A lot of the film's power comes from these rumors because they hinge on love, and these friends have grown into adulthood with the cloud of a love triangle hanging over them. Kathy is kind, caring and madly in love with the meek Tommy, whom is taken by the assertive and strong-willed Ruth. All three main actors are so strong at subtly portraying these emotions (Knightley probably being the least subtle, but her character's traits somewhat demand that that be the case). There are multiple plot points that arise during these two acts that I am hesitant to mention in order to avoid making this review too spoiler heavy. Each turn in the story takes only adds to the emotional buildup as these characters' paths diverge and converge throughout the adult stages of their lives.
In her three films I've seen (An Education, Drive, and Never Let Me Go), it has become apparent that Carey Mulligan is a feast to the eyes. Every time she is on screen, I cannot turn away because she is not only beautiful but also so damn good. Without uttering a word, she can express so many emotions through her eyes, face, and mannerisms. Her face alone can tell know how much pain she is in when Ruth flaunts her relationship with Tommy, how happy she is when she can get a taste of the love she seeks, and how sad she is when the weight of their place in the world bears down on them. She got an Oscar nomination (and Oscar snub: Sandra Bullock in The Blind Side my ass) for An Education, and I am sure that the accolades will continue to pile up as her career continues to develop. Andrew Garfield is also great and Keira Knightley is really good, but Mulligan is the one who steals the show.
While it will not reach the heights of "Best of 2010" for me (like it did for Filmspotting's Adam), Never Let Me Go is still a very strong film. It takes a story of unrequited love and adds such a unique twist that it quickly got me hooked. You are both terrified by the world that has been built and moved by the personal stories that take place within it. I cared deeply about Kathy, Tommy, and Ruth, and pulled for them to find some happiness in their unhappy situations. As a film buff, there's no better feeling than finding pleasantly surprising films that completely missed your radar. Never Let Me Go was such a case.
Mark it 7.