Another installment of the films I watched this month, but did not write a full-length review for:
The Manchurian Candidate (1962) – Mark it 6.
While this highly renowned Cold War thriller was not quite the masterpiece I had expected, it is a very effective thriller none-the-less (expectations are dangerous but so hard to avoid). Lawrence Harvey plays a brainwashed Communist assassin with the perfect front, a Medal of Honor award winning war hero returning home, while Frank Sinatra, also a part of the Communists' brainwashing experiments (but apparently not as effectively), tries to prove his suspicions before it is too late. I enjoyed The Manchurian Candidate despite its somewhat ridiculous plot, but was not blown away – with the exception of the brainwash demonstration scenes involving a ladies' hydrangea club, which was pure genius. Also, Angela Lansbury is subversively terrifying as Harvey's overbearing mother.
The Sweet Hereafter (1997) – Mark it 8.
Atom Egoyan's extremely powerful drama looks into how a grief-stricken community deals with a horrific tragedy. After a school bus crash kills most of the children in a tiny Canadian town, a lawyer (Ian Holm) tries to convince the mourning parents to join a class-action lawsuit to find some closure for the people and, in a way, for himself (having virtually lost his own daughter to a severe drug addiction). There are great complexities conflicting the community as some feel a need to find a scapegoat while others realize that the accident was merely a freak and heartbreaking occurrence, with the outcome to be decided by one of the survivors, a now-paralyzed teenage girl (Sarah Polley), The Sweet Hereafter is a terribly sad film, but its message is so emotional and execution so fascinating that sitting through all that sadness is worthwhile.
Continued my kick of existential Ingmar Bergman films from 1957 with Wild Strawberries. An old and lonely professor, Isak Borg (Victor Sjöström), takes a strange road trip through Sweden to receive an honorary award. Borg is joined by his daughter-in-law and a group of young hitchhikers while he is haunted by dreams and memories that highlight his existence of missed opportunities and wasted years. Though distinguished, his life has lacked love and, consequently, real meaning. Borg learns lessons from his dreams and memories, his refreshing encounters with the idealistic young people, and his first heart-to-heart conversations with his daughter-in-law. He soon realizes that it is not too late to make a change for the best. Wild Strawberries is a powerful film that teaches one to seize the day, so we have no regrets when we look back in the future.
Young Adult (2011) – Mark it 7.
Charlize Theron fully commits to being despicable in this new dark comedy by the Juno duo, director Jason Reitman and screenwriter Diablo Cody. Theron plays Mavis Gary, a grown up version of the shittiest kind of teenager and ghostwriter of a series of trashy young adult novels. Since high school, Mavis has failed to develop beyond her image obsessed and self-centered teen self. An alcohol problem and the birth of an ex-boyfriend's daughter takes Mavis back to her small town home for a self-destructive trip. I admired Young Adult for making its heroine a monster (and sticking to that concept), and for remaining ambiguous as to whether or not she learned from her experiences. Patton Oswalt also gives a stand out performance as Mavis' ignored ex-classmate and newfound drinking buddy whose development since high school has also been stunted (due to a traumatic hate crime perpetrated by the ignorant jocks Mavis relates to so well).
The Guard (2011) – Mark it 4.
Brandon Gleason stars as a seemingly irresponsible and apathetic Irish policeman more interested in sex, booze, and drugs than the job. However, when suspected drug traffickers show up in his rural town, the ignorantly racist Irish cop is forced to partner with a straight-laced African-American FBI agent (Don Cheadle) and all the odd couple clichés ensue. Predictably, the bumbling Irishman has more going on in his brain than initially expected while the by-the-book American is always a little slow on the uptake. The Guard is filled with comedic elements that miss their mark and dramatic elements that feel forced, and every plotline is too neatly wrapped up. It is not necessarily a bad film, but one that is entirely forgettable.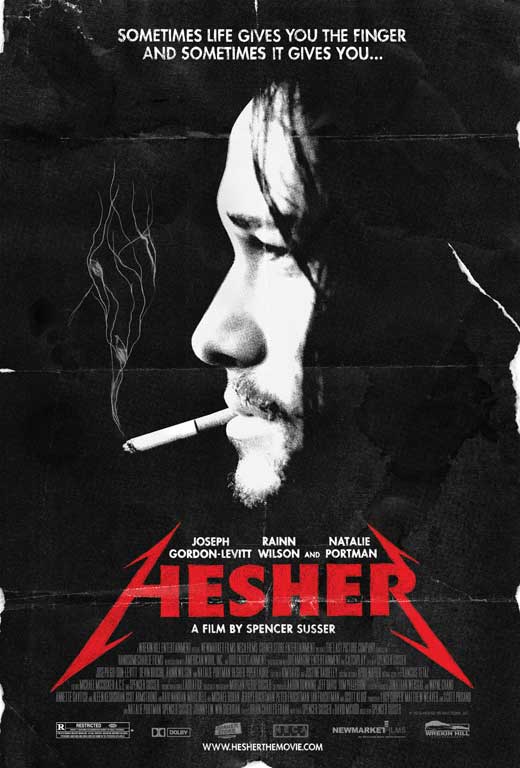 Hesher (2010) – Mark it 1.
Joseph Gordon-Levitt is barely recognizable as Hesher, a longhaired and scraggly metalhead slacker who forms an odd and unlikely friendship with a grieving family. It's a shame that such a bold performance was wasted in this piece of shit film. Hesher is clearly a sociopath, who is inexplicably tolerated by all the bland people he encounters. Yet he is a sociopath who teaches everyone valuable lessons in the end, obviously. Every dramatic cliché is used, including the literal use of a thunderstorm to symbolize the characters reaching rock bottom, and each time Hesher infuses some hackneyed drama, it is laughably bad. All its intended laughs stem from seeing Gordon-Levitt's vulgar disregard for common decency, and that motif gets old almost immediately. Natalie Portman is her adorable self in a supporting role, but who cares because it comes in one of the worst movies I have ever seen.
Jennifer Lawrence gives a breakout performance as Ree, a 17-year-old girl forced to take care of her younger siblings and pill-popping mother in the poor backwoods of Missouri. The court threatens to take away their home, the only thing holding this family together, when Ree's meth-cooking father fails to attend his court date. To try and save their home (and in turn, her family), Ree goes searching for her father and manages to get dragged further and further into the dark depths of the Ozarks' underworld. This movie's tone increases its intensity as the dangers mount up, and Lawrence is fantastic as a desperate but strong young woman who refuses to let the choices of her father break up the rest of her family. John Hawkes is also great (like in Martha Marcy May Marlene) as Ree's intimidating uncle, Teardrop, who offers his help but can never be trusted completely.